World Championships Winners
The 2017 World Championships are now part of history and our sport has crowned our new Singles and Doubles champions. Curious as to who won? Did you enter our Win-Win-Win-Win-Win Challenge?
We had 6 entrants who correctly predicted all 5 winners:
Bao Nguyen
Christian Foisy (Not eligible to win the $100)
Jeffrey Lin
Julien Gaboriaud
Leo Eng
Mariana Ramirez Arango
Each of the above names, except Christian, are eligible for the final drawing to select the winner of the $100 Gift Certificate from Ping Pong Depot. We will video the drawing and post it on our Facebook page shortly. Thanks to everyone who participated.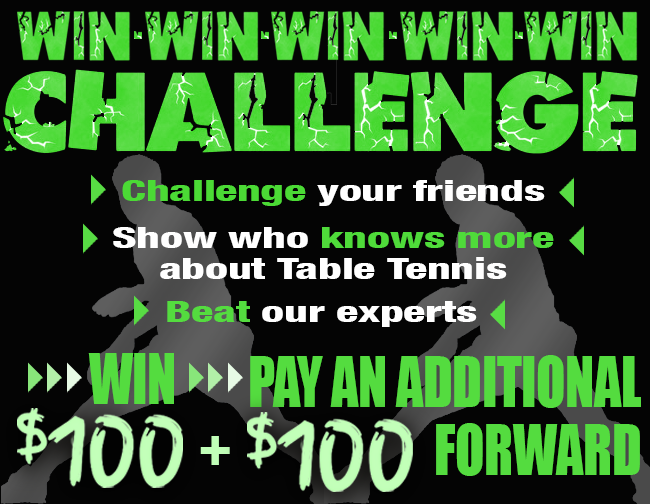 Red: Lost    Green: Winner
| | | | | | |
| --- | --- | --- | --- | --- | --- |
| Experts | Mens | Womens | Mens Double | Womens Double  | Mixte Double |
| Bao Nguyen | 1 MA Long CHN | 1 DING Ning CHN | 3 FAN Zhendong – XU Xin – CHN | 4 DING Ning – LIU Shiwen – CHN | 6 YOSHIMURA Maharu – ISHIKAWA Kasumi – JPN |
| Christian Foisy | 1 MA Long CHN | 1 DING Ning CHN | 3 FAN Zhendong – XU Xin – CHN | 4 DING Ning – LIU Shiwen – CHN | 6 YOSHIMURA Maharu – ISHIKAWA Kasumi – JPN |
| David Jacques | 1 MA Long CHN | 1 DING Ning CHN | 3 FAN Zhendong – XU Xin – CHN | 3 CHEN Meng – ZHU Yuling – CHN | 1 LEE Sangsu – YANG Haeun – KOR |
| Doru Gheorghe | 2 FAN Zhendong CHN | 2 LIU Shiwen CHN | 3 FAN Zhendong – XU Xin – CHN | 3 CHEN Meng – ZHU Yuling – CHN | 1 LEE Sangsu – YANG Haeun – KOR |
| Edward Ly | 2 FAN Zhendong CHN | 2 LIU Shiwen CHN | 3 FAN Zhendong – XU Xin – CHN | 4 DING Ning – LIU Shiwen – CHN | 6 YOSHIMURA Maharu – ISHIKAWA Kasumi – JPN |
| Guillaume Tremblay | 1 MA Long CHN | 5 CHEN Meng CHN | 3 FAN Zhendong – XU Xin – CHN | 3 CHEN Meng – ZHU Yuling – CHN | 7 FANG Bo – SOLJA Petrissa – CHN |
| Ilya Timan | 1 MA Long CHN | 2 LIU Shiwen CHN | 3 FAN Zhendong – XU Xin – CHN | 8 HAYATA Hina – ITO Mima – JPN | 1 LEE Sangsu – YANG Haeun – KOR |
| Julien Le Hégarat | 1 MA Long CHN | 1 DING Ning CHN | 3 FAN Zhendong – XU Xin – CHN | 4 DING Ning – LIU Shiwen – CHN | 3 KARLSSON Mattias – EKHOLM Matilda – SWE |
| Larry Thoman | 1 MA Long CHN | 8 HIRANO Miu JPN | 3 FAN Zhendong – XU Xin – CHN | 4 DING Ning – LIU Shiwen – CHN | 1 LEE Sangsu – YANG Haeun – KOR |
| Marie-Andrée Lévesque | 1 MA Long CHN | 1 DING Ning CHN | 3 FAN Zhendong – XU Xin – CHN | 4 DING Ning – LIU Shiwen – CHN | 1 LEE Sangsu – YANG Haeun – KOR |
| Martin Marcotte | 1 MA Long CHN | 2 LIU Shiwen CHN | 3 FAN Zhendong – XU Xin – CHN | 4 DING Ning – LIU Shiwen – CHN | 1 LEE Sangsu – YANG Haeun – KOR |
| Mitch Rothfleisch | 5 OVTCHAROV Dimitrij GER | 3 ZHU Yuling CHN | 2 FRANZISKA Patrick – GROTH Jonathan – GER | 3 CHEN Meng – ZHU Yuling – CHN | 7 FANG Bo – SOLJA Petrissa – CHN |
| Pierre-Luc Hinse | 1 MA Long CHN | 1 DING Ning CHN | 4 JEOUNG Youngsik – LEE Sangsu – KOR | 4 DING Ning – LIU Shiwen – CHN | 1 LEE Sangsu – YANG Haeun – KOR |
| Pierre-Luc Thériault | 1 MA Long CHN | 1 DING Ning CHN | 17 BOLL Timo – MA Long – GER | 4 DING Ning – LIU Shiwen – CHN | 7 FANG Bo – SOLJA Petrissa – CHN |
| Sean O'Neill | 2 FAN Zhendong CHN | 2 LIU Shiwen CHN | 3 FAN Zhendong – XU Xin – CHN | 4 DING Ning – LIU Shiwen – CHN | 1 LEE Sangsu – YANG Haeun – KOR |
| Tahl Leibovitz | 2 FAN Zhendong CHN | 2 LIU Shiwen CHN | 3 FAN Zhendong – XU Xin – CHN | 4 DING Ning – LIU Shiwen – CHN | 6 YOSHIMURA Maharu – ISHIKAWA Kasumi – JPN |
| Thierry Verviers | 2 FAN Zhendong CHN | 3 ZHU Yuling CHN | 17 BOLL Timo – MA Long – GER | 4 DING Ning – LIU Shiwen – CHN | 6 YOSHIMURA Maharu – ISHIKAWA Kasumi – JPN |
| Willy Leparulo | 2 FAN Zhendong CHN | 8 HIRANO Miu JPN | 1 MORIZONO Masataka – OSHIMA Yuya – JPN | 2 DOO Hoi Kem – LEE Ho Ching – HKG | 1 LEE Sangsu – YANG Haeun – KOR |
| Yang Jiang | 2 FAN Zhendong CHN | 1 DING Ning CHN | 3 FAN Zhendong – XU Xin – CHN | 4 DING Ning – LIU Shiwen – CHN | 7 FANG Bo – SOLJA Petrissa – CHN |